Hi, I'm Andrew Ferebee.
A few years ago I was broke with $14.63 to my name, had just gone through a serious break up and was a lost man with no clear path and purpose in life. I was a leaf in the wind being blown around by main stream society to my own detriment. Everyday was just another day deeper into a meaningless life of mediocrity.
I knew something had to change in my life but when I searched online I found very weak advice that lacked depth or even addressed the problems that men face today (Maxim, Men's Health, FHM), so I decided to document my own personal development journey and the lessons I've learned.
I test, experiment, take massive risks, interview world-renowned entrepreneurs, thought leaders, and experts and then I share my experiences on the Knowledge For Men blog and podcast for you to grow.
I went on a journey for about a decade interviewing over 400 experts on life, success and relationships which turned into a podcast that has over 8+ million downloads, I've written 3 amazon best selling books for men that have sold thousands of copies, host of sold out personal development seminars in San Diego, CA and have been in relationships with some of the most beautiful and talented women in Southern California. (It's crazy to even write that as I was in a really dark place not too long ago).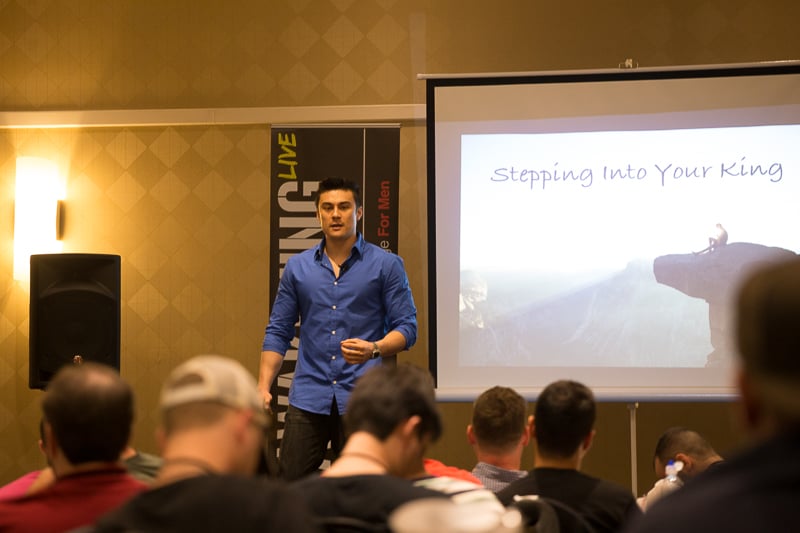 If you are currently struggling to find your purpose, build a high quality social life of liked minded men, date the women the women you really want, engage in deeper more intimate relationships with your existing partner or live life as a strong grounded man, then I can help.
Why? Because I've been at rock bottom and climbed myself out inch by inch to solve each of these.
I've overcome extreme depression, been rejected by hundreds of women, nearly went bankrupt, lost my father unexpectedly, and suffered through a multitude of chronic health problems and extreme hardships.
I used to play it safe, work a corporate 9 to 5 job, lived by the "rules", and put others needs before my own. A "nice guy" if you will, but I did one thing that changed everything.
I took the first step…I acknowledged my own shortcomings.
Then I took the second step… I took responsibility for my life.
Then I took the third step… I found the strategies in life, business and relationships that work
Then I took action…relentless action, consistently and patiently.
Most importantly I grow with each failure and get one step closer to becoming the strongest version of myself.
Andrew Ferebee's Rules:
Life is short. We must live in the now and live each day purposefully.
Taking risks and stepping out of your comfort zone is essential for growth. A life without risk is no life at all.
Knowledge is not power, applied knowledge is where true power is found.
Finding and living your life's purpose is every man's mission in life.
You can do anything you want in this life, but only after experiencing countless failures and putting in your reps.
Change your environment and you change your life.
Women are not the end goal. They are a natural bonus to a life well lived. Stay on your path and she will arrive.
Love yourself and be your authentic self 100% of the time. Hold nothing back.
If you share any of the above beliefs, then you will love Knowledge For Men. There is already so much growth happening within the community. It's truly an exciting time, and I'd love for you to get involved and transform your life with us. You can do that by engaging with some of the content below and joining my private client community at the bottom of this post.
This is me living my purpose, encouraging you to live yours.
– Andrew Ferebee, Founder of Knowledge For Men
My Best Written Content that I Made For You
My Best Selling Books on Amazon For Men
The Dating Playbook for Men: A Proven 7 Step System to Go From Single to the Woman of Your Dreams (over 60K copies sold!)

The Porn Pandemic: A Simple Guide To Understanding And Ending Pornography Addiction For Men

The Break Up Manual For Men: How To Recover From A Serious Break Up, Become Stronger and Get Back Into Life
My Top 10 Best Interviews with Industry Experts
Upgrade Your Life and Achieve Your Highest Potential with Andrew Ferebee
If you're ready to take the next step to joining our community and becoming a strong grounded man so that you can create the life you want, simply click the link below and watch the presentation to learn more about how we can help you.
In this exclusive program for men, you'll get access to:
Transformational weekly group coaching calls designed to help you close the gap from where you are now to where you want to be.
Advanced virtual training to unlock higher levels of success in your life, relationships and confidence.
A private community of high performing men to support and hold you accountable on the journey towards creating an epic life.
Click here to watch the new member presentation, learn how I can help you and upgrade your life