And it's not Jobs or Wozniak!
What I'm about to tell you will shock many of you, especially loyal Steve Jobs fans.
The foundations of Apple were not entirely formed by Steve Jobs or Stephen Wozniak.  Another man involved whose name you do not know laid the early foundations of Apple.
Still with me? Good.
I want to make sure I have your attention for the following:
The History
Personal Computer. It is technology  we take for granted today. In 1976, it didn't exist.
Steve Jobs was friends with Steve Wozniak when Jobs saw the potential for Woz's genius design. You know that part. The story goes on to say that Mike Markkula stepped in, coughed up $250,000 and the story promptly goes back to Jobs.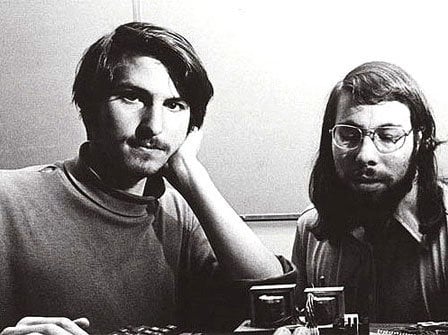 Not so fast.
By Fall of 1976 Hewlett Packard and Commodore both turned down Stephen Wozniak's designs. Jobs went to his former boss to ask about investors and Nolan Bushnell recommended Don Valentine.
Don Valentine saw the potential and made a call to Mike Markkula.
"He called me up and said there are two guys over in Los Altos that could really use your help and you oughtta go see them and I said ok, cause that is what I did on Mondays," Markkula said.
Markkula retired from Intel by age 32. "One day a week I would help people start companies and write business plans. I did it for free just for the interaction with bright people who had fire in their bellies," Markkula said.
"Never start a company with the goal of getting rich." – Mike Markkula
Markkula went on, "The two of them did not make a good impression on people. They were bearded, they didn't smell good, they dressed funny. They were young and naive but Woz had designed a really wonderful, wonderful computer."
Markkula invested $250,000 and became Apple employee #3.
Markkula was also hands on.
It was Markkula who instructed Mr. Wozniak to design the floppy disk drive for the Apple II.
Markkula wrote several early software programs for the Apple II – and distributed them for free under the pseudonym of Johnny Appleseed.
Markkula was the one who gave the go-ahead to Jef Raskin to start designing the Macintosh computer in 1979.
Later, Markkula became Apple's best product tester, often finding dozens of flaws in hardware or software that was ready to ship.
The Vision
Markkula worked on that business plan and saw the opportunity there. "In 1976, if you talk to 100 people and say, 'Would you like a personal computer?' they'd go 'What's that?""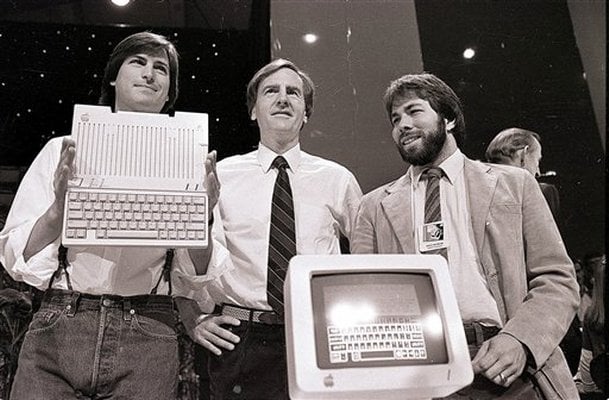 Markkula saw more than the possibility of a successful company. He saw that a revolution was imminent.
Markkula envisioned they would be a fortune 500 company in 2 years.
It took 5 years.
May 1983: Apple enters Fortune 500 at #411. Apple becomes the fastest growing company in history.
When they incorporated, Mike laid the bedrock of Apple saying, 
"Never start a company with the goal of getting rich. Your goal should be making something you believe in and making a company that will last."
This mentality stuck with Steve Jobs and was a cornerstone of the foundations of Apple tell this day.
Steve Jobs later would say, 
"I was worth over $1,000,000 when I was 23, and over $10,000,000 when I was 24, and over $100,000,000 when I was 25, and it wasn't that important because I never did it for the money."
Jobs and Wozniak had a vision, but it was Markkula who brought the business acumen that executed that vision in the early stages of Apple..
Ideas are useless without action.
The Apple Marketing Philosophy in 1977
Then Mike Markkula wrote the early foundations of Apple that Steve Jobs would execute flawlessly over 3 decades.
Markkula changed the company's business strategy early on.
Wozniak said, "He made it a marketing-driven company as opposed to a engineering-driven company."
Wozniak suggested the Apple Marketing Philosophy, penned by Markkula, made the company what it is today more than anything else.
Point No. 1: Empathy
Apple should strive for an "intimate" connection with customers' feelings. "We will truly understand their needs better than any other company," Markkula wrote.
Point No. 2: Focus
To be successful, Apple should center its efforts on accomplishing its main goals, and eliminate all the "unimportant opportunities."
Point No. 3: Impute
Apple should be constantly aware that companies and their products will be judged by the signals they convey. "People DO judge a book by its cover," Markkula wrote. "We may have the best product, the highest quality, the most useful software etc.; if we present them in a slipshod manner, they will be perceived as slipshod; if we present them in a creative, professional manner, we will impute the desired qualities."
Markkula told Floyd Kvamme on his first day at Apple to go out and buy an Apple Computer, then take it home and set it up, to better understand the customer's needs.
The Lesson (What can you learn from this?)
Get a mentor. Arthur Rock said Markkula became a father figure and mentor to Steve Jobs.
Value the experience of those who have done it before. Their knowledge is invaluable and can expedite your success.
No matter what level of success you attained, there is always someone better. There is more to learn, more to do. Learn from others like a sponge.
Successful people understand the natural law that the more they give, the more they will receive. Mike Markkula's initial $250,000 yielded an unprecedented 220,700% return on his investment.
Create a business that you care about. Stop thinking about how much money you can earn and start thinking about how much impact you can make.
Steve Jobs would echo this sentiment, "People say you have to have a lot of passion for what you're doing and it's totally true. And the reason is because it's so hard that if you don't, any rational person would give up."
Too often our mindsets are if I create a company, I will earn money and I will be passionate about life. This model needs to be inverted. Be passionate about your work, deliver consistently good work, then you will reap the rewards.
"Ideas are useless without action."
Impute. Your perception of something is how it will be experienced. How your business looks is a reflection of you. Operate in excellence. The alternative is a company that looks great but runs like shit, or vice versa.
Focus. Listen up scatterbrain, eye on the prize. Do one thing great rather than several things okay. Knowing when to say "No" will allow you to say "Yes" to what matters most.
Remember your Mr. Miyagi: "Focus Daniel-San." Go ahead and feel free to replace your name there.
Focus leads to mastery. You will always be a student, continually refining and redefining what your best is, and by extension, your company.
Stay the course. Have faith that your business model works. That is the confidence a mentor who supports and trusts you with their money can bring. This allows you to focus on your job: learning, creating, mastering and delivering your craft.
"Being the richest man in the cemetery doesn't matter to me … Going to bed at night saying we've done something wonderful… that's what matters to me." – Steve Jobs, 1993, The Wall Street Journal.
Next Steps
We're on a mission to impact a million men with powerful life changing content. If you enjoyed this article, please share it with your friends on your preferred social network on the left. I spent a ridiculous amount of time creating this article for you and with your support, we can impact the world together.
Want to become the strongest version of yourself?
Then click here to get a free trial to my elite community of 800+ high-performing men, The Secrets of the Top 1% of Men. Not only will you get tapped into your own "band of brothers", but you'll also have access to some of my best content and training as well as bi-weekly group calls with my team of coaches.
If you're ready to push the boundaries of what's possible in your life and become the man you've always wanted to be. This is the fastest way to do it.
References:
http://www.acceler8or.com/tags/mike-markkula/ http://applemuseum.bott.org/sections/history.html Stephen Wozniak article crediting Markkulla: http://www.businessinsider.com/wozniak-credits-mike-markulla-with-apples-success-2012-5 http://www.youtube.com/watch?v=H6LlTikerBs Isaacson, Walter. Steve Jobs. New York: Simon & Schuster, 2011. Print  
Disclaimer: Knowledge For Men is not related or affiliated with Apple, Inc. and does not gain any monetary benefit by referring Apple products.  Recommendations are voluntary and solely based on our own experience. iMac, iPad, iPod Touch and Apple, Inc. are registered trademarks of their respective owners. THIS BLOG claims no credit for any images posted on this site unless otherwise noted. Images on this blog are copyright to its respectful owners. If there is an image appearing on this blog that belongs to you and do not wish for it appear on this site, please E-mail with a link to said image and it will be promptly removed.