Over the past two years, the subscription service MentorBox has exploded in popularity.
Not a day goes by where I don't see one of their ads on YouTube, Facebook, or Instagram and, with all of the hype surrounding their platform (not to mention the crazy amount of epic guests they have in their ads), I decided to dive into the platform for myself and see what it was all about.
I wanted to know if MentorBox was the "Netflix of Knowledge" or a scammy "sales funnel" that would trap me in its web and slowly drain my bank account dry.
And what I found genuinely surprised me…
If you want to know whether MentorBox is worth your money (or more importantly, your time), this review will give you everything you need to know to make an informed decision.
From the sign-up process to the upsells to the content to the cancellation policy, I'm giving you everything you need to decide if MentorBox is right for you or if you should run in the opposite direction.
Let's dive in…
What is Mentorbox?
MentorBox is the brainchild of Tai Lopez and Alex Mehr, two of the most notorious and trendsetting internet marketers alive.
The premise of the MentorBox subscription is simple. Every week, their team reads the best books on business, relationships, health, and success and then distills those books into bite-sized summaries their subscribers can digest in a matter of minutes, not days or weeks. They conduct interviews with some of the most famous authors and influencers to tease out even more wisdom and practical life advice and offer a (more expensive) subscription service that includes physical copies of the books along with other tools and resources.
On the surface, all of this sounds amazing.
I mean who wouldn't want access to some of the most life-changing knowledge on the planet…in a format that allows you to "read" 3-5 books a week?
But when you dig a little bit deeper, you'll discover that the subscription isn't quite everything it's hyped up to be…
The Mentorbox Sign Up Experience & Pricing
Considering that its founders are two of the most infamous marketers around, it should come as no surprise that the entire MentorBox experience (even after you've become a paying customer) is very "internet markety."
Their ads proliferate every corner of the web and, if you visit their site even once, you can expect to spend the next three months skipping their retargeted campaigns on YouTube, Facebook, and Instagram.
The sales page is filled with fake countdown timers (refresh the page and the timer restarts), over the top copy, and other conversion gimmicks designed to get you to take action fast. 
But none of this is particularly divergent from the industry standards. These are things we've all grown to expect so I don't begrudge them for their aggressive and over the top marketing tactics.
Especially when considering the low price they charge.
The most basic MentorBox subscription is only $7/month or $59/year. You get a free trial for three days and are charged automatically after that (note: they do not send reminders or emails to inform you of your charge date so if you aren't thrilled with the subscription, be sure to cancel within the 3 days).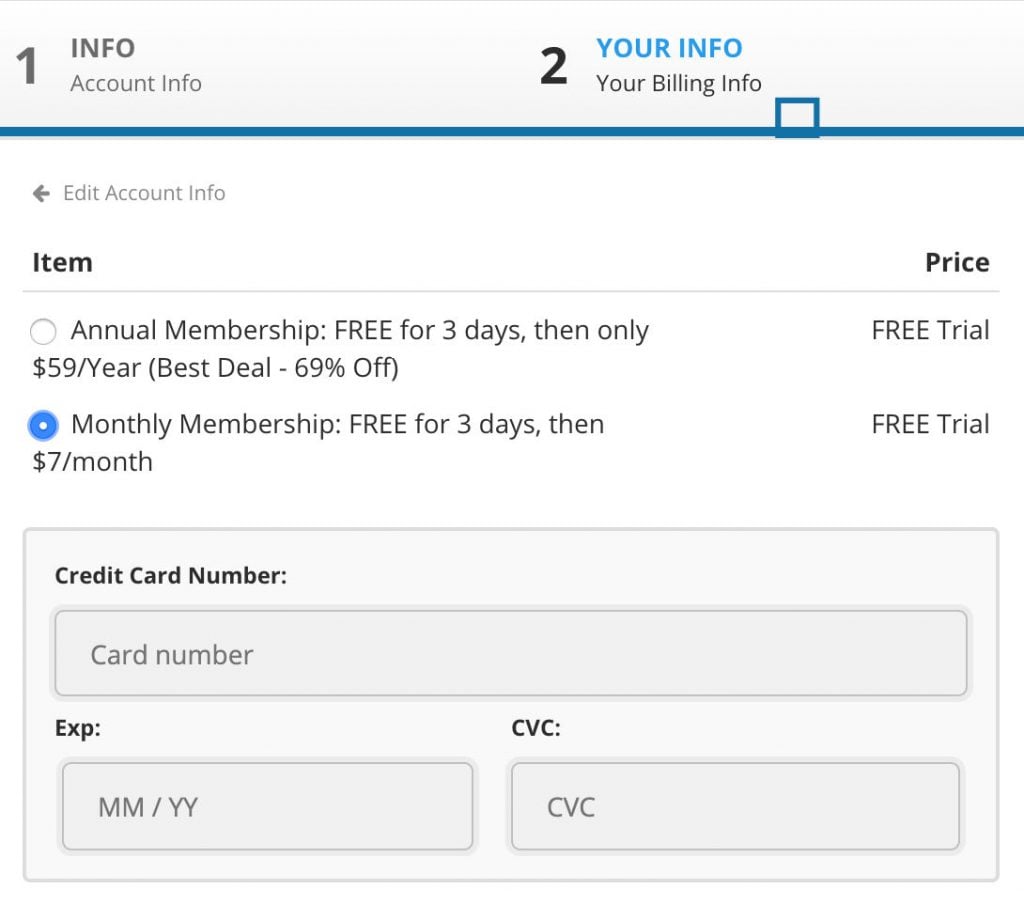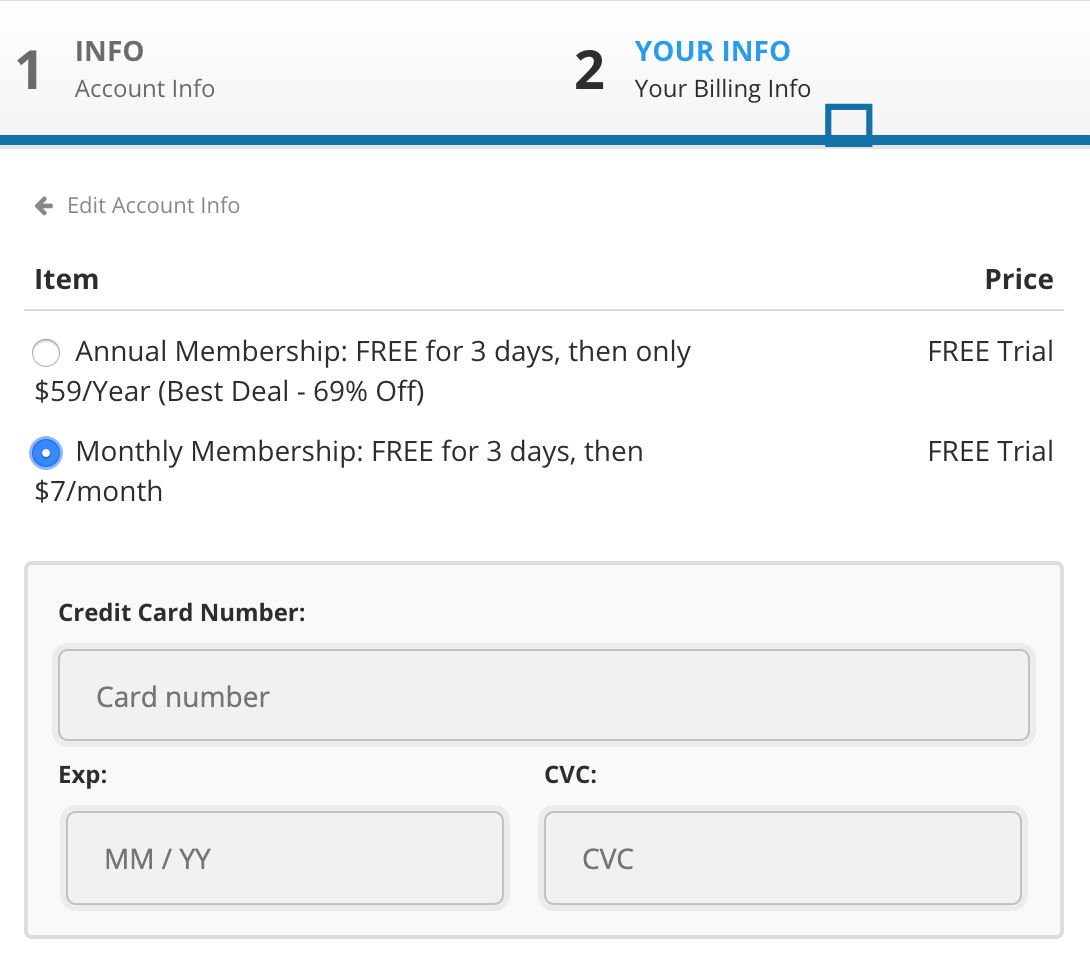 Their average customer probably stays for anywhere from 3-6 months (unless you completely forget that you're paying for the subscription which often happens), so their annual plan actually works out in their favor.
All of your purchases are protected by a 30-day money-back guarantee–something I put to the test later in this post.
Considering the crazy amount of revenue the company is investing into ads (seriously, I see at least five of their ads every day), I was wondering how the company could be profitable with such a small offer.
But then, after finalizing my transaction on the first page, I realized where their real money is made…
The Mentorbox Sales Funnel: "But Wait, There's More!"
I'm no stranger to upsells. I've used them in my own business at various stages and actually like it when companies give me an opportunity to get even more out of my investment. I mean what would a burger be without fries and a root beer?
So the fact that your MentorBox purchase is followed by a lot of upsells didn't really surprise me…
…However, the lack of coherence and the seeming carelessness with which they created the sales page and communicated the offer did.
Let's take a look under the hood and see what else MentorBox has to offer.
Upsell #1: "Audiobook Nuggets" 
The first upsell MentorBox offers is a program that includes 10-minute audio blasts that cover the most important lessons from more than 100 books.
And that's fine (it's pretty common practice to include an audio upsell of a book or program).
But at $89, the price simply doesn't line up.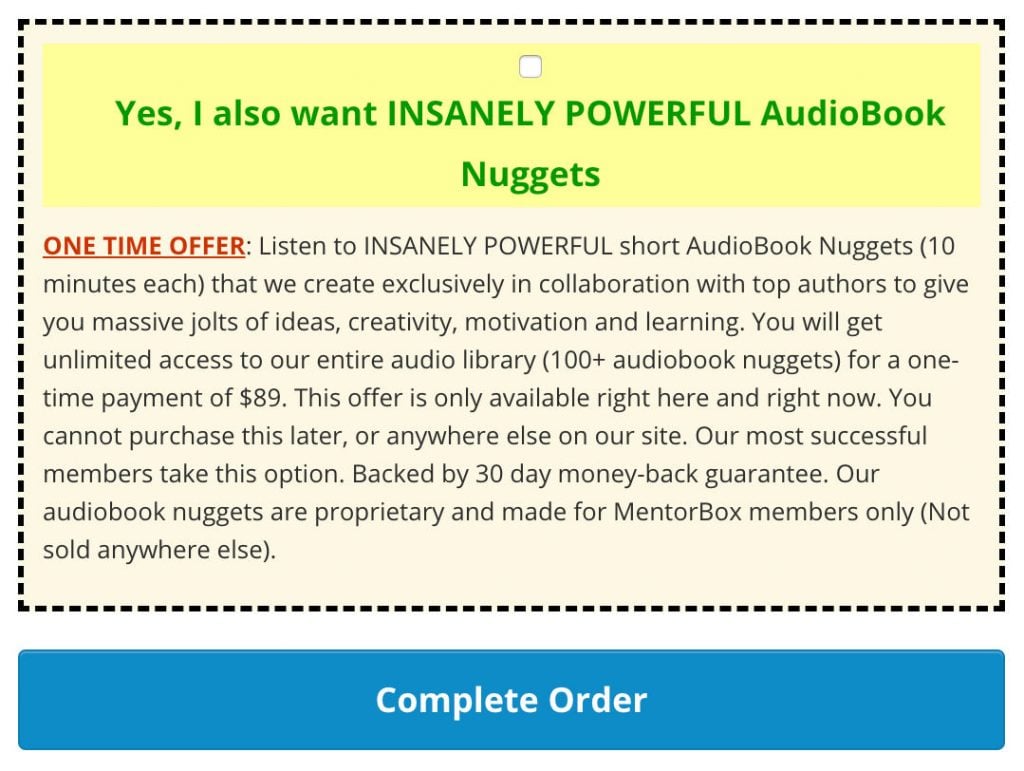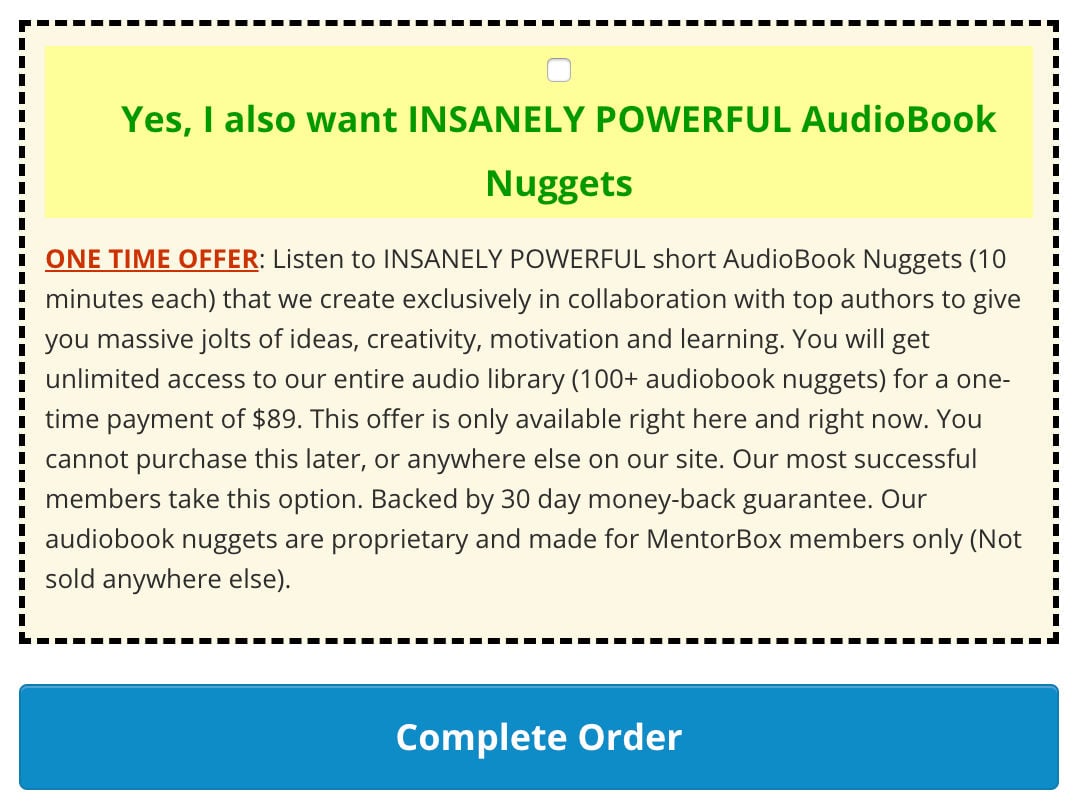 I was confused at how the team could charge such a high rate for such a common and seemingly unimportant upsell. You aren't getting any new programs or exclusive access to online courses, coaches or mentors…just more recordings that should have been included in the basic subscription.
But I digress.
I clicked "Yes", and proceeded to the next page.
Upsell #2: Entrepreneur Academy
The second upsell offered by MentorBox was even more confusing. Not just because of the price disparity (the "Entrepreneur Academy" is only $20 whereas the audio recordings were almost $100). A title like that just deserves a higher price point, right?
But because I had no idea what I was being offered in the first place.
Considering the decades of cumulative experience shared between Tai and Alex, I expected to see fantastic copywriting, a compelling sales video, and irresistible offers that made me foam at the mouth.
Instead, I saw a low-quality 60-second sales video (that further confused me) and this…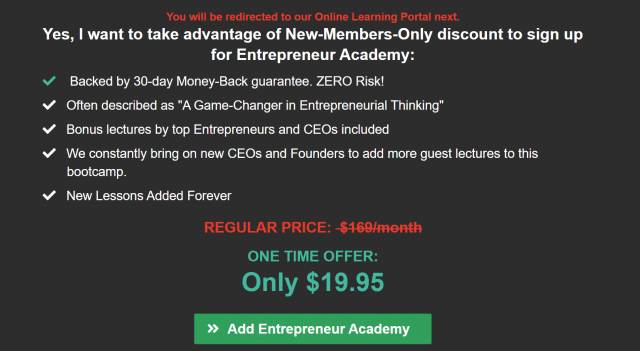 The team used a lot of "wandering generalities" like, "This will change your life", "This is our most advanced training", and "This is game changer for entrepreneurs"…but offered little in the way of a coherent pitch and value that would be delivered.
"What is this product?", I kept asking myself.
I'm not even sure if the guy in the video knew what he was selling. And, as far as I could tell, it was just a collection of educational videos bundled together and labeled "Entrepreneur Academy".
But, since it was only $20 (and for the sake of this review), I bought it anyway.
And then I was brought to the final upsell…
Upsell #3: Money and Investment Club
Once again, I was shocked by how poorly designed the entire MentorBox sales funnel really is.
The third and final upsell I was offered was something called the "Money and Investment Club" (original, right?) and, once again, there were plenty of vague promises about how this investment would "Change my life" and how Alex wants to "Create a movement" but I still had no idea what was being offered or what I would get after purchasing.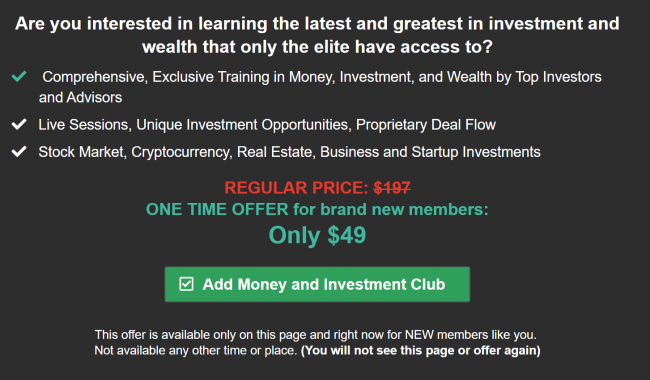 But, I figured the live calls would be worth the modest fee and decided to buy it anyway (despite the fact that it also looked like an aggregated pile of old videos and interviews).
By the time I made it through their funnel, my expectations of the program were exceedingly low.
And after I hit "submit" on my final order, you won't believe what happened next…
Accessing MentorBox: The Problems Begin
When I submitted my final order on the upsell page, I expected to receive immediate access to the course.
Instead, the page froze and redirected me to a sales CRM tool (likely the one they're using).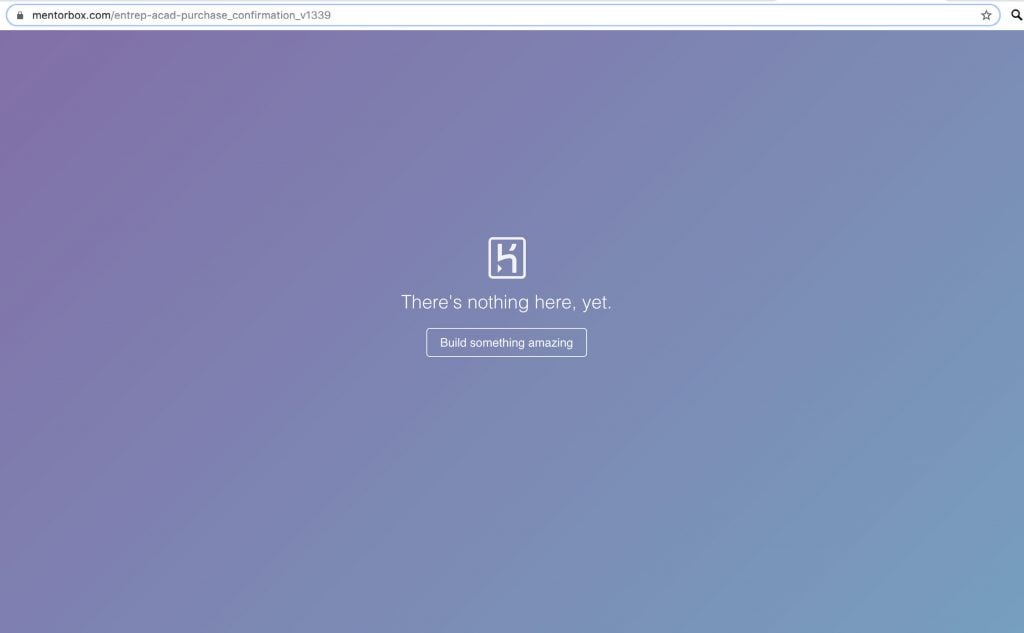 I'm no stranger to technical difficulties so I hit the back button and refreshed the page. But the longer this process went on, the more I began to feel like MentorBox might be more interested in getting my credit card on a recurring subscription than delivering a great service. If they can't figure out how to create a "bug-free" sales funnel, how could I trust them to fulfill the promises made inside that funnel?
I was bothered.
But a minute later I heard the familiar "ding" of my new mail notification and received instructions for accessing my purchases.
I had no problem accessing my purchase (but you must use the correct email address because their system doesn't confirm the validity of your address) but was annoyed to find that I had to create a separate login for every purchase I made instead of one universal login for all programs purchased…which made navigating my new "investment" confusing and tiresome.
But I opened up the login page, input my credentials, and clicked "Sign In."
What was going to happen next? Would I have unparalleled access to knowledge at my fingertips? Or was I helping the founders buy another Lamborghini and fly private to the South of France?
Inside The Mentorbox Platform: So Simple a College Student Could (and Probably Did) Build It
If their ads are to be believed, Alex and Tai have some pretty deep coffers from which to draw. Despite my rocky experience with the sales funnel and on-boarding process, I held out hope that the subscription would surprise me.
And it did…but not in the way I expected.
For starters, the entire MentorBox experience is powered with Teachable (not a custom platform which I anticipated), which makes it feel more like an online course than something unique and cutting edge.
The books, interviews, and lessons aren't structured or aggregated into a coherent curriculum. Instead, they're more like "mini-courses" with worksheets, PDFs, and short video lessons from the authors of the books (which I actually found quite unique and worth noting).
The amount of content (and the wide variety of subjects it covers) is more overwhelming than anything else.  I wasn't sure where to begin. Maybe their could be a quiz that asks me what I'm interested in learning then show me a list of recommended books to begin with.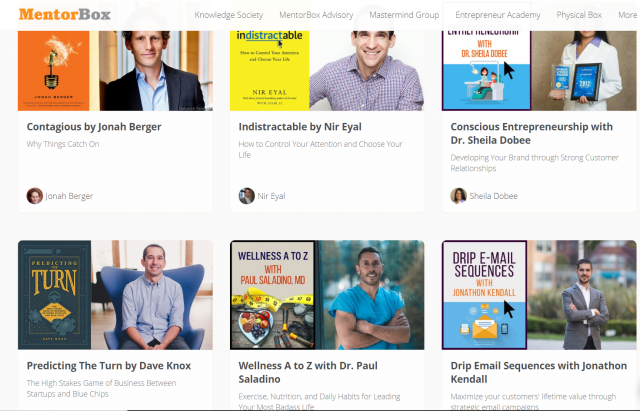 On the first page alone, there are videos on everything from email sequences to finding your purpose to resistance training to leadership to The Adventures of Huckleberry Finn and Frankenstein (not entirely sure how those last two are going to help me live a better life…)
Considering that many of the authors who appear in the subscription don't do public interviews or video content, I was pleasantly surprised that the team at MentoBox was able to logistically put that together.
But…after clicking through a few of the lessons, I quickly realized why many of the aforementioned authors don't create videos or do live video interviews…they were horrible at it. Many of the video lessons were almost unwatchable and actually detracted from the quality of the book itself.
Furthermore, the production quality is inconsistent from author to author. The more well known the author is, the better their videos were. The smaller they are, the more it looks like the entire "lesson" was recorded with an iPhone camera.
To make matters worse, one of the bonuses promised on sign up, "Persuasion, Marketing, and Sales Academy" didn't appear anywhere inside the platform.
I contacted support and, within seconds, it was clear that I was talking to a robot…who promptly re-enrolled me in my courses (which I did not ask it to do). Eventually, I managed to get a real person on the chat line and when I asked about the missing bonus program offered on the sales page again, she replied, "That's what MentorBox is." My attempts to get clarification on the missing bonus program were met with silence and, if I understood the conversation correctly, the "bonus" I was promised was simply part of the main product.
Ok then…
At this point, I was beginning to lose hope in the program and started to feel like the entire experience wasn't going to be worth my time.
But, I remembered that there was a "MentorBox Mastermind Group"…
The Mentorbox Mastermind Group: Not What It's Cracked Up to Be
Considering my experience with MentorBox so far, I had almost no hope for the mastermind group and half expected that my request to join would take weeks.
So I was surprised when I was accepted within 24 hours (this is actually extremely impressive for such a large company).
But when I started scrolling through the group, it was clear that low expectations really weren't low enough.
The mastermind in question is actually not a mastermind at all–that would mean you were meeting regularly, virtually or in person, to discuss ideas with a small group of experts led by a leader–but a anything goes run of the mill Facebook group.
There was no engagement or content from any of the authors after scrolling for minutes. Tai and Alex are not engaged in any of the questions or comments, however this was not promised. And it didn't really seem like anyone from the MentorBox team was doing much to create a thriving community.
It's mostly the group sharing books they're reading or ideas about what books to read next…but after spending almost 20-minutes perusing the various threads and posts, it seemed like fewer than a dozen people were leading the entire "community" of 50,000+ members.
In my own group coaching program, The Secrets of the Top 1% of Men, I engage with every member directly, respond to questions, and do my best to ensure they're getting value out of the experience. I do my best to foster a real sense of community and camaraderie among my customers and deliver 10X the value they invested.
Considering that MentorBox likely has a team of 50+ I was frustrated by the lack of leadership displayed inside the so-called mastermind.
But ignoring the vague upsells, the broken sales funnel, the haphazard content curriculum, the uneven production quality, and lack of real community…is the actual product–the book summaries and video lessons–deliver on its promises?
The answer is…sort of.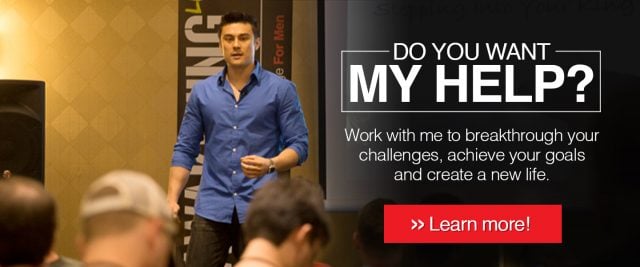 The Mentorbox Review: The Good, the Bad, the Ugly
At only $7/month, it's hard to fault MentorBox for their seemingly haphazard attitude toward the technical side of their subscription.
Even if you just completed one book a month and filled out the worksheet…it would be worth $7 and I can't see how someone couldn't get a positive ROI on their investment at such a low price point.
So the real question then, is not "Is MentorBox a good investment of my money?" (the answer is yes), but rather, "Is MentorBox a good use of my time?" 
And that's where things get sticky.
Over the course of the past decade, I've read well over 500 books on a wide variety of topics. Some were great. Some were okay. Some were horrible.
But when I reviewed the summaries of books I'd already read, I realized something that MentorBox doesn't want to hear…
Book summaries dilute the potency and degrade the delivery of life-changing lessons.
Imagine if you'd never seen any of the classic movies like Star Wars, The Lord of the Rings, or The Matrix and instead watched a five-minute summary of those films. Do you really think you could understand it? Would you grasp the nuances of the story? The hidden lessons? Would you even care about the characters or know what the movie was actually about?
Of course not!
And books are the same way.
We live in a society that is fueled by instant gratification and with "Generation Smart Phone Y" entering the workforce, it's obvious that most people want things to happen and to happen now. 
But true value cannot be delivered in 5-minute snippets. Growth and transformation are not instantaneous processes and platforms like MentorBox dilute the life-changing messages of the books they summarize.
All of the greatest epiphanies I've ever had from reading great books came because of the storytelling, time invested into reading and intricacies provided by the author.
Anyone can give you platitudes and trite sayings to improve your life.
But truly internalizing and understanding life-changing concepts takes time.
For example, the Pulitzer Prize-winning book Guns, Germs, and Steel by Jared Diamond has been touted as one of the most important books on political and economic development of our time and offers incredible insights into why the world looks the way it does today.
Yet Mentorbox's summary of this book gives customers nothing more than a 15-minute perfunctory glance at the implications of Diamond's writing.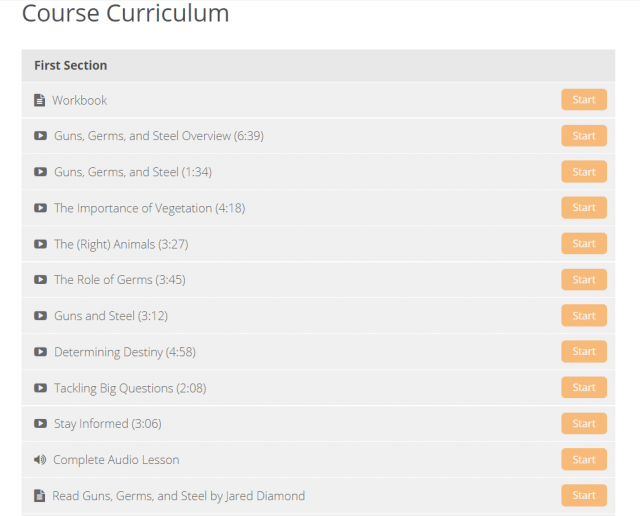 You don't get the complete picture. And such a short-sighted overview of the book won't result in the life-changing insights you could otherwise glean from reading the entire book.
An even bigger problem with the platform is that MentorBox offers little in the way of guidance. They overwhelm you with information and encourage blind consumption…but the lessons aren't structured in a way that allows you to improve on a specific facet of your life in a tangible way.
Instead, you'll get drawn into consuming a lot of information but never taking the next step toward implementation of what was learned. And as the old saying goes, "Knowledge is only power when it's applied."
All in all, MentorBox's offer sounds great in theory, but the model itself is not conducive to lifetime transformation and growth.
But what about the upsells? Does the "Entrepreneur Academy", "Investment and Money Club", and audiobook nuggets live up to the hype?
Mentorbox Upsell #1 Audiobook Nuggets Review
Despite the high price tag of the program, I was pleasantly surprised by the high quality of the audiobook nuggets upsell.
Johnathon Kendall does an excellent job narrating the lessons and his enthusiasm for the wisdom being shared is palpable. The recordings are entertaining and engaging and I personally think John would make an excellent podcast host.
However…
The fact that this was included as an upsell was a bit confusing. I thought book summaries were the entire proposition of MentorBox? In reality, the upsell was more like, "John's Take" on each book which was cool…but again, it seemed like something that should have been included in the program itself…not a $89 upsell.
Mentor Box Upsell #2: The "Entrepreneurs Academy" Review 
Considering my pleasant experience with the audiobook nuggets, my hope for the Entrepreneurs Academy was rekindled.
But the spark of hope was quickly extinguished when I actually started to go through the program.
Like the main product, the production quality of the videos in the academy was uneven. And the actual content of the videos was almost useless. It was all very basic information from experts and the executive team at MentorBox.
Far from the "game changer", it was promised to be, the program proved to be little more than a haphazard amalgam of basic business lessons you can learn on YouTube for free.
Don't get me wrong…there are some good ideas and a few insightful lessons and interviews. But the 1-2 golden nuggets you might find in the videos aren't worth the 20-30 minutes of having to sit through it all.
For example, the "Drop shipping" course hosted by Samir Chibane will give you a broad understanding of what drop shipping is (finding deeply discounted products and then selling them from your own platform at a markup), and the various methods you can use to make it work…but it doesn't offer you a proven system to make drop shipping work for you or any tactical strategies beyond "Create Facebook Ads" and "Use These Plugins" (with which the company is likely affiliated).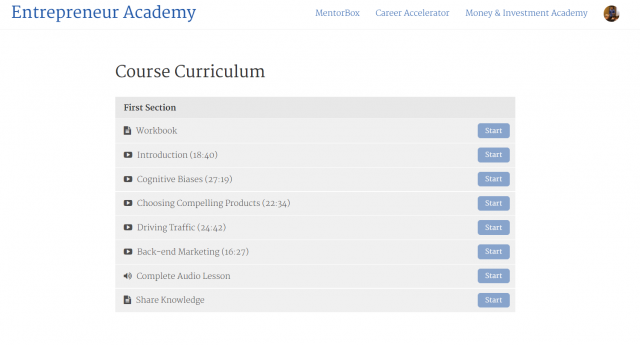 The content is very basic and maybe that's what some people need. But there's no coherent strategy or course of action to help you build a single business. Instead, you get "Entrepreneurship 101" and a few basic lessons on different business models.
Again, at only $20, you won't be wasting your money if you actually go through it all. But the real problem is that the program is may not be the best use of your time. 
By listening to a podcast interview with any of the "Entrepreneurship Academy" experts, you can find the same information faster and easier.
If you're just getting started out in business and aren't familiar with terms like "drop shipping", "buying media", or "networking", you might get something out of the course. But if you've read more than a few business books in your life and can search on YouTube for this stuff..the time you invest simply won't be worth it.
Mentorbox Upsell #3: Money and Investment Club Review
The "Money and Investment Club" is effectively, more of the same.
Although the course includes content on topics like:
Angel Investing
Cryptocurrency
Sales
Marketing
Fixing Your Credit
Stock investing
Persuasion
The 20-60 minutes expert interviews don't provide any tactical insights or applicable knowledge. Just a general overview that you can find for free. There are a few nuggets here and there on investments but, again, the amount of trivial information you have to sift through to find them makes the program not the best use of your time.
For example, the "Crypto 101" course is, quite literally, nothing more than a 16-minute video giving you the most basic and barebones understanding of what cryptocurrencies are and how they work.

I've invested in crypto before (and actually managed to make about $13,000 back during the 2017 boom). And I can tell you from firsthand experience there is nothing simple about cryptocurrencies. Just learning how to buy a cryptocurrency is a several hour project…and figuring out which "alt coins" are worth your money, which ones are scams, and creating a coherent investing strategy? Well…that's something that will take years of research and analytics (and something that even the savviest investors still struggle to do).
Again, MentorBox isn't going to teach you anything you couldn't learn with the most basic of Google searches and, in the same amount of time it will take you to go through their content, you can get much clearer and more strategic insights from other experts.
The Mentorbox Physical Box Review
I'm going to be blunt here.
The MentorBox "physical box" is not worth it. 
At the outrageous price of $139/month for two books and a few "trinkets" like fridge magnets, bookmarks, and a USB drive loaded with content you already have, this is one of the few cases where it really is a matter of money and not time.
For $139, you could go buy the hardcover and audio versions of the same books on amazon…and still have enough money left over to treat yourself to a nice dinner.
And, to make matters worse, you don't even get to choose what books or "goodies" come in your box. It would be like Netflix charging you $140/month and sending you two random DVDs that you may or may not be interested in watching.
If you're going to sign up for MentorBox, just stick to their $7/month subscription and get access to everything online.
Mentorbox 30 Day Cancel Anytime Policy Legit?
After my short experience with MentorBox I decided to ask for a refund of my purchase both because I genuinely didn't find it to be a valuable use of my time and because I wanted to put their 30-day "Cancel Anytime" policy to the test.
According to previous reviews, the MentorBox customer service is atrocious and many angry users claimed that they never received a refund for their purchases or were unable to cancel them at all.
More than likely, it looks like the problems with the customer service team were little more than "growing pains" (which should be expected with any new business scaling quickly) and my personal experience with MentorBox's customer service team was charmingly surprising.
After submitting my refund request, I was instructed to "Wait a few moments while I check on that for you" and, to my surprise, I received a prompt response letting me know that my account had been canceled and the money had been returned to my account.

I had no issues canceling my account or having the funds returned to my account and, in my experience, their "Cancel Anytime" policy is legitimate and simple (they didn't even try to incentivize me to stay around…which kind of surprised me).
Should You Join MentorBox?
At $7 a month, investing in MentorBox is not a serious decision. You aren't going to lose with it.
The real question you should be asking yourself is this…
"Do I have the time to scour the program for valuable lessons and will I actually use the information I learn to improve my life?"
For most of you reading this, the answer is "no".
Personally, the way Mentorbox could play a long term role in your growth is to use the subscription as a sort of "screening" service and use the summaries to decide if I'm interested in a book enough to buy it online. This could also be done with amazon reviews but it's only $7 and it could save you from buying a book not worth reading.
If the company wants to stand the test of time, the leaders of the brand need to focus on providing higher quality content, a coherent curriculum, better on-boarding experience, and effective branding within the course and platform. They need to shift their model from increasing conversion rate at all costs and start viewing themselves like Netflix and investing heavily in the service they are providing to their customers.
In my opinion, it seems like Tai and Alex are still gauging whether or not they have a viable product before investing real time or effort into the company (which seems weird considering that they should be making more than $300,000/month with more than 50,000 customers based off the size of the fb group).
Instead of being an "internet marketing" company focused more on marketing and customer acquisition, they need to reassess their priorities and focus on becoming a real company with a mission that customers want to be a part of for the long term. So customers view Mentorbox as a key tool in their personal development and business growth as leaders.
With the influence and income shared between Alex and Tai, they have the opportunity to revolutionize self-education and deliver an invaluable service to people who need it. But right now, their focus seems to be exclusively on making sure their ads convert profitably and optimizing sales funnels.
If they are willing to change their model, the company has a lot of potential.
Do you want my help?
Then click here to watch my new client orientation to learn more about becoming a stronger Grounded Man, breaking free from nice guy behaviors, and creating a powerful social circle of likeminded men and a high quality romantic relationship.
Not only will you get tapped into your own "band of brothers" in my elite community of men, but you'll also have access to the best damn course training available for men as well as weekly group calls with my team of transformative coaches. No whiny boys, complainers or dabblers, for serious men only.
If you're ready to push the boundaries of what's possible in your life and become the man you've always wanted to be. This is the fastest way to do it.